Price: 56 678 000 $ (NZ$68 000 000)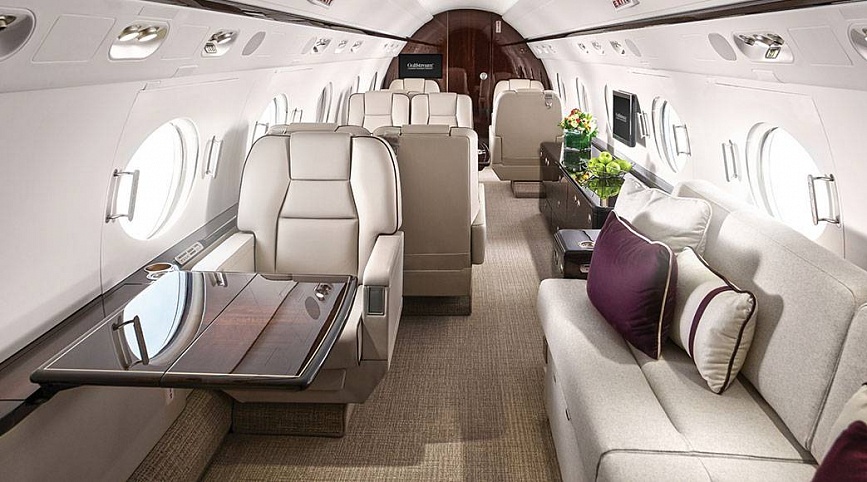 Gulfstream has a reputation for building quality aircraft where form meets function to produce eye-catching machinery.  For those in the market for a new jet or looking to trade in their older model, the Gulfstream G550 may be the aircraft you have been waiting for.  This beautiful plane is top notch and ready to make your travel a whole lot better and faster.  Let us help you see why owning one of these top-of-the line airplanes will make you the envy of everyone on the runway.
Sure to be love at first sight, this ultra-long range business jet is beautifully designed.  Don't let its sleek and sophisticated appearance fool you; it is tough and quick where it counts.  This recent addition to the skies is made for long flights and can easily take you to your international destinations without breaking a sweat- and it will do so in record time.  It has already broken a few standing records.  This jet boasts Rolls-Royce BR710 turbofan engines.  Speeds between 6,750 nm (12,501 km) at Mach 0.80 to up to high speed cruising at Mach 0.87, will have you where you need to be before you know it.  From here on in, travel whether for business or pleasure is going to have a whole different appeal.
Just as impressive as performance and engineering of the plane itself, is the inside of the Gulfstream G550.  For the pilot, one look inside the state of the art cockpit is sure to please.  With features like the Gulfstream PlaneView cockpit and pertinent flying information posted on a 14 inch (36cm) liquid crystal display, what pilot wouldn't want to fly this Rolls-Royce of the sky?  Now that you are assured of your pilots comfort, what about yours and that of your passengers?   The Gulfstream G550 can seat up to 18 passengers.  Taking business associates, friends or family with you is not a problem.  The gorgeous interior is crafted with your comfort in mind.  There are 4 distinct living areas with 3 separate temperature zones.  Luxurious comfort that can please just about anyone will make any flight-no matter how long- an enjoyable experience.  Worried about staying connected on a long international flight?  On-board is a fax, printer and a wireless local area network.  Satellite communication is an option too.  Getting your business affairs in order during your flight is no problem.
Take to the sky in style without sacrificing speed or performance.  The Gulfstream G550 no doubt will meet if not exceed all expectation.  Fly with the best; see for yourself why this beautiful aircraft is the answer to all your flying needs!