CRN Azteca Yacht – Lord of the Sea
Price: 82 680 000 $ (€ 60 000 000)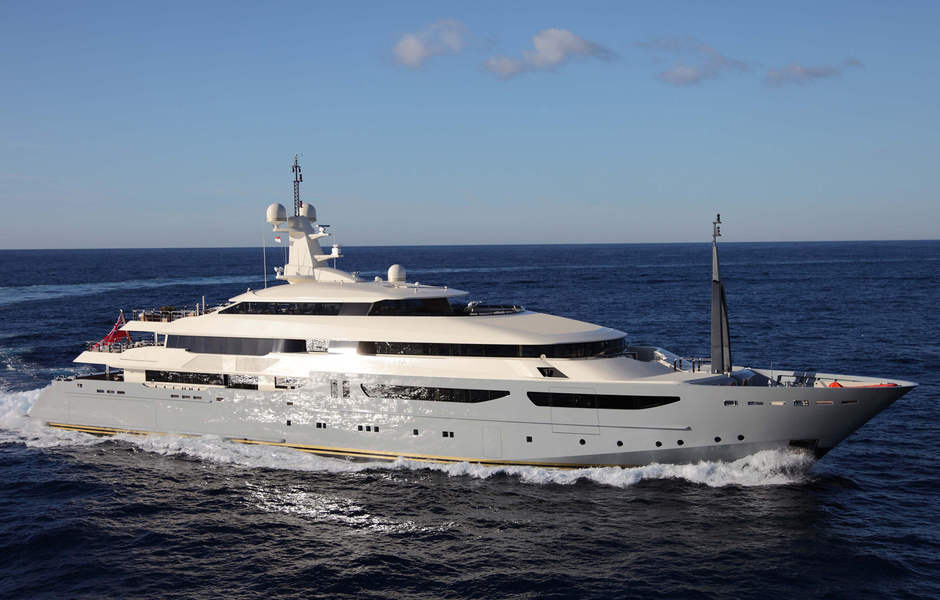 It seems almost inadequate to call CRN's Azteca simply the best offering in the super yacht line from the Ferretti Group. At 236.22 feet (72 meters), it was the longest ship produced in 2009 from Italy, as well as the largest for the CRN line.
The style of the Azteca is unmistakably Italian, but the technology is top notch from any nation's standpoint. You would never find a more classic and sleek yacht anywhere else in the world. Rather than a lumbering, bloated tub that many larger yachts appear to be, the Azteca is trim and sporty. This is due to the painstaking efforts of Nuvolari and Lenard, yacht designers extraordinaire.
Azteca Yacht Lower Deck
For guests and their service staff, there are two special cabins and two standard ones. Additionally, there are accommodations for 12 crewmembers and a living space for their use. This is also the ideal space to house the Riva Shuttles, jet skis, and a service tender.
An area on the lower deck is known as the "beach club," and it can serve for a beach overlooking the sea with exterior showers and a deck for sunning. The "beach" encompasses a 100 square meter area and has an enclosed area for comfortable reclining at the back where the bar is located.
Azteca Yacht Main Deck
The master suite, reserved for the ship's owner, is located on the main deck along with two more to be used by other guests. An engineering feat allows the master suite to link to the sea through a folding door that becomes a projecting terrace. This central point of the ship also contains a massage room, huge wardrobe, his and her bathrooms, and a cinema room featuring a 65-inch television screen. The restrooms are covered almost completely with marble.
Azteca Yacht Upper Deck
A 33-meter sun deck is a central part of the upper deck. Along with sun beds and Jacuzzi, the sun deck can be used as a helipad, as well.  Also located here are the captain's quarters and an exercise area with all the applicable equipment. The steering control room and radio room are also on the upper deck.
The Azteca is powered by two Caterpillar motors, which can maintain a cruising speed of 15 knots and a maximum output of 16.5 knots.
This super yacht is one that really cannot be appreciated without being seen because it is impossible to paint an accurate picture with words alone.